Naturally Soothe Away Baby's Cradle Cap
Cradle cap can be worrisome to any parent, especially a new parent with a new, innocent, soft-skinned little baby. However, cradle cap is nothing to be concerned about. It is simply a build up of your baby's natural oils and discarded skin cells. While baby grows early in life, hormone fluctuations can cause an increase in the skin's oil production causing a mild to more severe build up.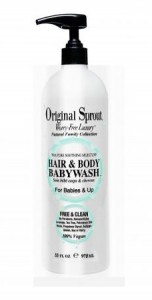 The best way to treat cradle cap involves gently washing away the oils without drying or causing stress to your baby's sensitive skin. Harsh cleansers can actually irritate baby's skin, making matters worse or causing rashes and itchiness. Your goal is to keep that precious baby skin moisturized and healthy. Healthy, hydrated skin is happy skin, and a baby in happy skin is happy indeed!
It is important to use shampoos & body washes that are sulfate-free (sulfates dry skin out), and contain natural emollients like jojoba, almond, coconut, and apricot oils. These ingredients will serve two purposes: preventing new issues related to dry, itchy skin, and gently cleansing and moisturizing baby's skin and hair resulting in healthy skin with no oily buildup. Regular use of a moisturizing shampoo/wash will gently and naturally clear your baby's cradle cap issues.
The entire Original Sprout line of shampoos, conditioners, styling products and lotions was designed with sensitive skin in mind. See what these beautiful families are saying about their experience with cradle cap and Original Sprout:
Eliza G. shared, "Love you products. We have been using the body wash, conditioner, detangler and gel for 3 months we love the products. They completely cleared my babies cradle cap. I still have yet to try the lotion, maybe with our next order." Sara M. wrote, "Thank you so much for making the 2-in-1 Baby Hair & Body Wash! Our 1-year-old had a horrible case of cradle cap, and the 2-in-1cleared it up quickly and left her hair beautiful and smelling terrific! We love your products!" Jane A. wrote, "Baylee's been blessed with her mom's ultra sensitive skin. We had received many different baby shampoos and lotions as shower gifts, everything from Johnson's to Belli Baby, to Burt's baby bee. We had everything from high-end salon products to the Target brands. Nothing we used worked for Baylee. They were all drying her skin so bad, or if they didn't dry her skin, they caused rashes. I sought out the Original Sprout products because David had told me about them a while back (long before we were thinking about kids). I've been using the moisturizing shampoo, the body cream, and the leave in conditioner on Baylee. Not only is her skin clear and well moisturized, the products smell so good, I could just eat her up after bathtime! J Thank you so much for making a product that works!"
And the UK's 21st Century Mummy (www.21stcenturymummy.com (link is external)) wrote on her blog, "Ever since my 3 year old was a baby, she has suffered from cradle cap, despite the fact I always used natural or organic baby shampoos. I have tried olive oil, cradle cap shampoos and various creams you get from the pharmacy, but nothing got rid of it…
…The hairdresser at Trotters recommended Original Sprout Baby Shampoo and Bodywash as it is oil-based, whereas most shampoos aren't. She also recommended rinsing her hair in fresh water after her bath and not washing it every day. After only a few washes, the cradle cap disappeared. The result: One flake free daughter and one seriously happy mummy!"
So mom and dad, no need to fret over cradle cap. Gentle cleansing with a moisturizing wash/shampoo will bring baby's skin back to its natural, healthy state in just a few washes.
Moisturizing Eczema-prone Skin with Original Sprout
Eczema is a dry, itchy, scaly rash that can make both children and adults uncomfortable. Predominantly affecting the face, hands, knees, and feet, eczema is most often associated with allergies, but can be triggered by any number of things including wearing scratchy fabrics, using certain soaps and detergents, and even stress.
The goal for any eczema treatment or prevention regimen is to keep the skin from becoming dry and irritated. This can be accomplished by using gentle, mild cleansers and shampoos that add moisture rather than cause dryness, and using an equally gentle moisturizer that contains soothing, anti-inflammatory ingredients such as zinc and calendula. In some severe cases, eczema flare-ups require over-the-counter or prescription medication. If you suspect you or your child is suffering from eczema, consult with your doctor on the appropriate course of treatment.
Many of our amazing Original Sprout customers have seen an improvement or a complete disappearance of their eczema symptoms from regularly using Original Sprout's Scrumptious Baby Cream and Face & Body SPF. Both of these products contain natural, vegan emollients like jojoba, apricot, almond, and coconut oils, as well as healing zinc that naturally soothes inflammation.
Meghan H. said: "Started using the baby wash, shampoo and leave-in conditioner on my almost-3 year old daughter. A rash she's had for weeks is almost gone now. We've used it 3 times only. I am a convert. THANK YOU!!!"
And Michelle F. said: "I just started using these products and love them! My 4 year old has eczema and these products are really helping her. Keep up the great work Inga!"
Christie M. shared: "This is my son, who went from being a lathered butterball every morning and night and went without the ability to play outside unless the weather was just right…to a happy little boy with healthy skin and almost no flare ups from his eczema in the 2 years since we started using Original Sprout."
Briana L. told us: "Ok, so my boyfriend got me a bottle of your natural shampoo and the conditioner, and my hair hasn't been this soft since I was a kid! Then, (I know this sounds weird,) I tried the shampoo as a face wash. My face is extremely sensitive and every face wash dries it out and leaves it red and irritated. Well, I figured if the natural shampoo is safe for babies, it should be gentle enough for my skin too. And my skin looks so clear and wonderful..after only 3 days! I haven't had to use moisturizers and the redness has disappeared, along with my acne. Thank you so much Inga!"
We love hearing stories from our cherished customers. We never tire of hearing that we are meeting our goal of providing safe, non-irritating products that are helping families worldwide feel healthy, radiant, and comfortable in their own skin.
"Super Lice" Resistant to Over the Counter Chemical Treatments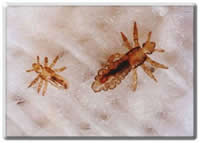 In many schools, kids aren't the only ones going back to school. It is estimated that roughly 10 million children worldwide between the ages of 3 and 11 are infected with lice annually. And recent studies report that many commercial products sold to treat lice are no longer working. The lice have built up a resistance to the chemicals.
So, what do we do? Even if the chemicals did work, there is concern over their toxicity to humans and the environment. In order to treat lice effectively, combing is a bare necessity, but Stanford's Packard Children's Health Services Pediatric Hotline says adding rosemary extract to our shampoo can help repel and kill lice.
Fortunately, Original Sprout's 2-n-1 Hair & Body Wash, Natural Shampoo, and Miracle Detangler all contain Organic Rosemary and Organic Calendula. So, we use our great, moisturizing, natural shampoos on the whole family, then spritz on a little of our leave-in detangler and lice are sure to think twice about jumping into any of our lovely locks. Worry-Free Preventative Luxury in two simple steps!
Styling Baby and Toddler Hair: All We Need to Know
Styling baby and toddler hair is always best with a natural, moisturizing approach. Keeping baby's skin and scalp healthy from the beginning means lifelong healthy habits. Gentle shampoos, conditioners and baby washes that use natural moisturizers help keep our children's delicate hair and skin healthy and soft, resulting in stress-free styling.
Working with what we have
At birth, our baby may have a full, thick head of hair, or they can be completely bald—both are normal. Babies born with hair will likely experience some hair loss in the first few months of life, often resulting in some styling challenges and hilarious photo opportunities. Don't worry. As I find with most stages of childhood development, "This too shall pass."
By age one, if not earlier, our baby's hair usually begins a normal growth cycle. New hair may have a mind of its own at first, because the chemical structure of the hair is in the formation stage. Don't worry. Our Natural Hair Balm was created to safely and gently transform frizzy, baby flyaways and cowlicks into adorable baby styles. Even barrettes stay in place with our family-friendly Hair Balm.
Taking the gentlest approach
Your baby is perfect. Just think…baby-soft flawless skin and glistening locks are what we all want! The most gentle cleansing and styling routine helps protect our children's health and beauty from the beginning. We use a paraben and sulfate-free shampoo/baby wash combo that gently cleanses away dirt and excess oils without drying skin or tangling our hair. Then we follow with a baby-friendly soothing conditioner that helps protect the hair shaft and makes for tangle-free brushing. Our entire family enjoys the combo because our skin and hair are baby soft.
Styling tips
Once we have clean, healthy hair, it's easy and fun to play with hairstyles. Before brushing we spritz on a gentle detangler which makes combing a breeze, so styling is a pleasure for everyone. Our non-drying Natural Hair Gel helps hold the little frizzies and flyaway's that are typical in babies, toddlers and new moms in place. Our Hair Gel helps protect new and delicate hair from breakage and leaves hair soft, silky and tame…never stiff or crunchy. Our Curl Calmer transforms frizzy curls into silky, soft ringlets with extra conditioning. The Hair Balm is a must for short hairs—especially fragile, breakable hairs in the hairline. The Balm helps protect the "Little Sprouts" so hair can grow longer and stay in place.
When it comes to styling baby and toddler hair, remember the golden rules: healthy + happy = beautiful! (That goes for us moms too!)
Tangled Hair
Tangled hair is common across all hair types and is one of the biggest complaints I hear from clients with curly, fine, and long hair—not to mention mom's everywhere! Hair tangles can be frustrating, but have to be handled delicately to avoid damaging the delicate hair fibre, making it even more tangle-prone. A soft approach, and a little preventative care can make brushing a breeze.
Get hair trimmed regularly: Snipping off dry split ends before they progress will keep hair in optimum shape. Even if you are trying to grow your hair long, regular trims will only take off a fraction of the growth, and will save you from having to trim off substantial damage down the road. Trimming our family's and baby's hair more often means easy combing every morning!
Moisturize hair with natural extracts: All moisture was not created equal! Some products feel moisturizing, but actually damage hair with repeated use. Shampoos, conditioners, and styling products should all contain healthy moisturizing oils that complement your hair's natural moisturizing properties. Hydrated hair is more pliable and resilient, and naturally withstands damage and frizz that can contribute to tangles.
Brush before showering/washing: When hair is wet it can stretch more, so brushing wet hair can actually cause additional stress to the hair shaft. Brush out your dry hair before you shower/wash. While washing, avoid swirling your hair in a circular motion as this can cause tangles. After your shower, spritz on a detangler to protect hair while you brush and style it. Using a wide tooth comb, work from the bottom of your hair to gently tease out any tangles. The best detanglers will not only get the tangles out, but also add moisture to prevent frizz and protect your hair from UV damage.
Don't forget to style: Like a good detangler, styling products can also help prevent tangles. As a final touch, add a shine-enhancing hair oil to your hair. Hair oils help prevent moisture loss and smooth the cuticle so that the hairs don't tangle.
Extra measures: For very long or tangle prone hair, put hair into a loose braid before bed or exposure to wind or exercise. If your hair tends to tangle overnight, sleep on a satin pillowcase.
Keeping hair hydrated and trimmed will help prevent tangles and avoid damage. Enjoy our professional tips for your healthiest hair ever!
Swimmer's Hair
After years of doing hair we found the easiest, most effective way to remove green deposits from swimmer's hair. The green tinge known as swimmer's hair is caused by chemicals in the water that bind to the hair. The best way to avoid it is to seal the hair shaft prior to swimming so that the chemicals have nothing to bond to. If you do get swimmer's hair, it's very easy to reverse the chemical process that caused it and get the green out. We use these easy tips at home and at our favorite salons!
1. Anti-Green Swimmers Paste: One effective treatment for many hair types is to mix a paste with a few crushed aspirin tablets*, baking soda & warm water. The paste is applied to warm hair after washing hair with a Natural Shampoo. Rinse out after 5 minutes. Finish with a thorough rinse and Deep Condition to restore moisture & shine.
2. Weekly Green Detox Dissolve a few aspirin in a cup of warm water and pour it on warm, wet hair after shampooing. Let hair sit for a few minutes and rinse thoroughly. Always condition after treatments or hair can become dry and course. Using a leave-in conditioner post detox is especially useful to restore softness, moisture & shine.
3. Green-Hair Prevention Before going swimming, thoroughly dampen hair in the shower & apply a pH balanced leave-in conditioner or hair oil. This way the cuticle (hair) is filled with soothing moisture & less likely to soak up chemicals. After swimming, shampoo & condition for silky, hydrated, healthy hair.
4. Make your own anti-chlorine shampoo The active ingredient in many swimmer's shampoos is sodium bicarbonate (baking soda). We make our own by mixing our moisturizing baby wash with baking soda. Five minutes with this do-it-yourself mix leaves our hair feeling amazing! It's like a deep cleanse, helping to lift away mineral deposits & getting the green out for healthy, revitalized swimmer's hair. We always follow shampooing with a UV-based conditioner to leave hair brilliant, smooth & silky soft.
Remember unprotected dry hair is like a sponge which readily absorbs chemicals, making it more likely to become green, dry, coarse and prone to damage. The best way to prevent hair from becoming dry is by using moisturizing shampoos & conditioners.
Enjoy, and happy swimming from Original Sprout!
Healthy, Hydrated Multiracial Hair
Multiracial dry, frizzy, kinky & curly hair types transform into healthy, hydrated gorgeous locks when properly moisturized. One of the biggest misconceptions about multiracial hair is that it is different from other hair types. The truth is, we are all made of the same ingredients…..and all hair is composed of the same proteins. The only difference is in the way the hair grows. Without extra moisture dry, tight, kinky curls grow out in a shape that can make brushing, styling and growing long hair difficult.
Because of the shape and delicate nature of multiracial hair types, clean moisture can have beautiful results! Whether we are going natural or chemically straightening our hair, the added moisture will protect it from damage. However, all moisture is not created equal. More specifically, all moisturizing hair products are not created equal. Natural oils like jojoba, almond, coconut, and apricot oils closely match our hair's natural oils and are readily absorbed. Plus, the proteins and vitamins in these oils help keep hair healthy and growing gorgeously. Look for them in your shampoos, conditioners, and styling products, and beware of drying sulfates that leave hair dry, frizzy and prone to breakage.
A great detangler and hair oil are also critical. They make daily styling much easier and also help reduce breakage. The detangler and hair oil should be multipurpose. Like our other hair products, the detangler and oil should add strength and shine for effortless styling and also protect hair from dryness, wind, and sun. Spritz damp hair liberally and comb gently with a wide-tooth comb for silky, beautiful locks. Finish with the non-greasy hair oil for extra brilliance!
For thicker, course or delicate/breakage-prone hair, using an extra conditioning styling aid made specifically for curly hair will make styling time a pleasure. This product will smooth the hair shaft and allow curls to cascade, framing the face. Use your favorite styling aid after detangling for lovely frizz-free curls.
Moisture, vegan protein and SPF protection are the keys to having beautiful hair. Using products that specifically help our hair fibre remain healthy and nourished means our best hair ever!